The Bear on Oct 09 2009 at 8:00 am | Filed under: Energy Policy, Environmentalism
Senators Barbara Boxer (D-Calif.) and John Kerry (D-Mass.) introduced draft legislation of a cap and trade bill with slightly more stringent near-term carbon reduction targets and Kerry's message was simple: The recession worked so well to reduce carbon dioxide emissions, let's keep it going. Senators from both sides of the aisle expressed concerns about the target but Kerry argued since the recession gave us a head start on greenhouse gas reduction, we can kill the economy some more.
Let me emphasize something very strongly as we begin this discussion. The United States has already this year alone achieved a 6 percent reduction in emissions simply because of the downturn in the economy, so we are effectively saying we need to go another 14 percent."
In other words, 10 percent unemployment is the new norm. It took a solid year for the United States to reach 10 percent unemployment through the financial meltdown and the housing crisis, let's keep it there, or make it worse, with cap and trade. Why not be even more aggressive? If the trade off is a 6 percent reduction in emissions for a 3.5 percent reduction in unemployment in one year alone, we could get to a 20 percent reduction in carbon dioxide by October 2011 and push the unemployment rate to 18 percent. Look on the bright side; we'd still be below Spain's 19.3 percent.
Related

API issues statement on Kerry-Boxer climate bill
The American Petroleum Institute issued the following statement today from President Jack Gerard on the Kerry-Boxer climate bill:
"Unfortunately, the Kerry-Boxer legislation is beginning to look a lot like the House's Waxman-Markey bill and a loser for American consumers. We can do better. If the Kerry-Boxer approach mimics the House bill, as early indications suggest, it will undermine our energy security by making American consumers more reliant on foreign sources of refined products, kill jobs and increase fuel costs.

"America needs all the jobs we can get and our economy will need energy from all sources to fuel a recovery and sustain economic growth.

"The 9.2 million workers supported by the oil and natural gas industry have a hard time understanding how America's economy will be better by threatening or eliminating their jobs and the jobs of those who depend on the energy they produce. And with America depending on fossil fuels for a substantial portion of its energy, many American consumers will wonder why their elected leaders in Washington are supporting policies that will likely raise energy costs and constrict supplies without delivering a realistic and measurable benefit to the environment.

"Analysis has shown Waxman-Markey would drive fuel prices up to between $4 and $5 a gallon and double our dependence on imports of gasoline and other fuels. We strongly encourage the Senate to not follow the House example."

Jack Gerard Discusses Energy Policy on CNBC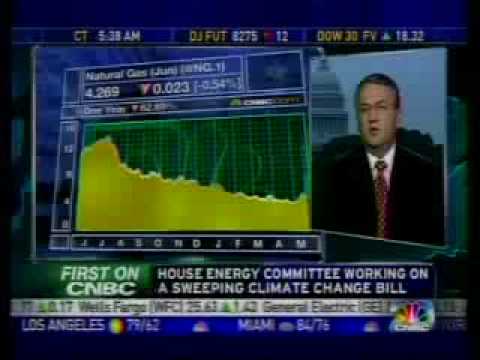 Leave a Reply
You must be logged in to post a comment.